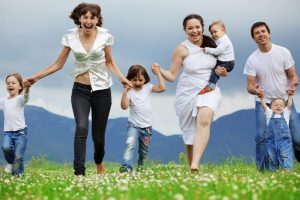 Do you get tired in the evening after a long day of work? Do questions about your carbon footprint make you feel bloated? If one more organization comes out with a new reporting format do you feel like you might get up from your desk slowly and just keep walking until you find yourself in an ashram telling a stranger that you used to work in corporate sustainability, but now you make specialty salts out of tears and go by the name Breezy Toledo? If you've answered yes to any of these questions, then you might have Sustaina-reportitis.
If this were a commercial there would probably be smiling people running through fields or flying kites on the beach while a vaguely recognizable, soothing voice promised a cure. But so far there is no cure for Sustaina-reportitis, only coping strategies and tools.
Coping begins by knowing what some of the reports are and when they might be coming at you. This isn't an exhaustive list, just some of the major report formats that we've heard of with links to more information.
Carbon Disclosure Project (CDP) Investor Response – Due May 31 – Requested by investors of larger publicly traded companies. Requires quantitative data and qualitative narrative regarding climate change and risk. For example: How many metric tons of Scope One CO2e did your company generate in 2013 and how will your profits be impacted by climate change?
Carbon Disclosure Project Supply Chain Response – Due July 31 – Requested by supply chain partners of larger publicly traded companies. Requires quantitative data and qualitative narrative regarding climate change and risk as it relates to the supply chain partners requesting the info. For example: How many metric tons of Scope One CO2e did your business generate while doing business for my business (how much of your warehouse electricity was required for storing my goods in your warehouse)?
Global Resource Initiative (GRI) – No due date – Elective report covering environmental, financial and social data. It includes much of the data required by CDP with additional data required for social/labor. For example: List the percentages of diversity in your organization.
Corporate Social Responsibility (CSR) – No due date – Elective report (usually looks like a glossy marketing brochure) that in the past shared anecdotal info (here's a picture of our green team cleaning up a beach on Earth Day), but in recent years has included more data and graphs. CSR reports can be GRI compliant if they address the GRI questions/criteria.
Sustainable Accounting Standards Board (SASB) – I'm not sure about due dates on this one – Elective (for now) reporting akin to the Financial Accounting Standards Board. SASB offers industry specific criteria to target the most material (biggest) impacts for the company. For example, a cement company answers a different set of questions than a retailer.
Integrated Financial Reporting – Due with the company's annual report – I haven't seen a company that does integrated financial reporting, but the concept involves reporting the environmental and social metrics alongside the financial numbers in the annual report rather than publishing a separate CSR report.
Dashboards – Updated quarterly or more frequently – Some organizations report their data in an ongoing fashion as that data becomes available from utilities or within the organization. Dashboards give transparency to the organization's ongoing footprint and can influence behavior by showing consumers how their action is moving the footprint. For example, the City of Bellevue publishes a public dashboard for citizens to see how their city's energy and fuel is trending: Bellevue Public Dashboard. Some organizations publish internal dashboards to employees.
Requests for Information and Request for Proposal – Many organizations get pulled into sustainability by potential customers who ask environmental or social questions in RFIs and RFPs. These questions can be maddening because they are frequently all over the place and it is difficult to reuse answers from one customer to another because the questions are never the same. This is a recycling problem that some sustainable MBA is going to make hay with someday.
Vendor Scorecards – After an organization makes it through the RFI/RFP process and has secured the business, the sustainability questions keep coming, often in the form of Vendor Scorecards. These questions are also frustratingly all over the place with the added bonus of the answers being scored and then meetings are scheduled with sustainability teams to review the scorecards and plan for improvement. Remember how much you loved reviewing your report card with your parents? (Or maybe you did and you were one of those kids).
Anticipating reporting needs is the first coping strategy. The second is leveraging tools for gathering raw data, calculating the CO2 and costs, generating the reports, planning initiatives to reduce CO2 and saving money, and generating all of the narrative… but that is for another blog post about Scope 5's services and technologies.
In the meantime, take a few happy pills, practice smiling while running through fields flying kites, and let us know what sustainability reports and standards are we missing.