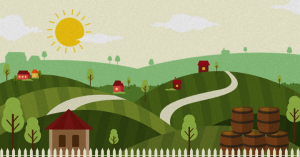 I wrote about Full Sail Ale's sustainability leadership not long ago. Since then, we've been fortunate enough to work with New Season's Market – another sustainability leader in the food industry and also a B-Corp. Here's another post I'd like to draw your attention to on sustainability in the brewery and winery industries. It's written by Abby Quillen.
I encourage you to read the full post. Here are a few excerpts:
Americans consume 9.4 billion gallons of alcoholic beverages a year: 87 percent beer, 8 percent wine, and the rest spirits. The environmental impact of producing, packaging, and selling all those beverages could make an environmentalist reach for a drink. Breweries and wineries consume large quantities of water, raw materials, and other natural resources.

But there's good news: Green beer is no longer something people drink just on Saint Patrick's Day. With the rise of the craft beer movement and growing consumer interest in local and sustainable food, more breweries and wineries are working to reduce the beverage industry's environmental footprint. As a result, it's easier to stock the home bar with sustainable, organic brews.
A gallon of beer requires five to 10 gallons of water to produce. Craft brewers are leading a movement to reduce that ratio (Oregon's Full Sail Brewery boasts a 2.5 to 1 ratio) and even the world's largest brewers, including Anheuser Busch, MillerCoors, and Heineken, are cutting water usage.